Dear Parents, Guardians, and Prospective Families,
As principal of St. Francis, I welcome you to our school, and to our school family. St. Francis Xavier School has been in existence for over eighty five years, and was first staffed by the Dominican Sisters of Hope. These sisters built a strong academic, and unashamedly Catholic foundation that continues to be built upon today.
As you will see, St. Francis Xavier School is a place rich in tradition and heavily invested in faith and family. Our community is a nurturing and supportive one, that thrives from the contributions of all of its members. With the help of our dedicated faculty, staff and parents, St. Francis is a place where children grow as students, grounded in God's love. At St. Francis, your child will embark on an academic and spiritual journey and discover what it means to succeed in a nurturing environment centered in faith, hope, and love – the Gospel values of Jesus Christ.
We are a parish elementary school offering classes in preschool through 8th grade. There are several options for our Early Childhood Education program, serving students as young as 3 or 4 years old, as well as a full day Kindergarten program. We understand the needs of our parents, as we offer extended care in the mornings, as well as our after-school program, in which a variety of clubs and enrichment opportunities are offered. The programs and curriculum at St. Francis are accredited by the New England Association of Schools and Colleges. Our school standards are aligned with national and state Core Curriculum standards. St. Francis is also fortunate enough to be able to offer Spanish, Latin, Technology, Music, Art and Gym to enhance your child's educational experience.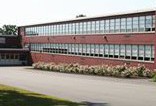 Thank you for considering St. Francis Xavier School. I'm sure you will find that we provide academic excellence, a positive, welcoming community, respect for all and most importantly, a strong Catholic faith formation.
Please feel free to contact me. I would be happy to answer any questions or to arrange a tour of our school.
God bless,
Mrs. Michelle Russo
Principal

Meet Our Principal…
Mrs. Michelle Russo brings over fifteen years of experience as an educator at the elementary school level to Saint Francis Xavier School. Mrs. Russo earned her Bachelor of Arts in Psychology and Education from Merrimack College in North Andover, MA. She is certified in elementary education in Massachusetts and Nevada and has nine years of experience teaching at multiple grade levels. At St. Stephen's Elementary School in Glenwood Springs, Colorado, Mrs. Russo served as a curriculum coordinator and assistant principal. She also served as assistant principal at Saint Francis Xavier before being appointed principal in 2013. Mrs. Russo and her husband, Michael, reside in Marion, MA with their five children (all five graduates of St. Francis Xavier) and are also parishioners at St. Francis.