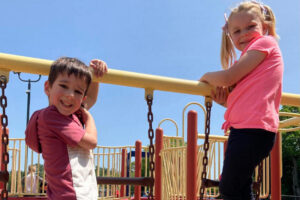 Whether parents are simply running late on a particular day or have to work late, Extended Care offers parents a safe and reliable care solution.
The Extended Care Program is available to students in Small Wonders/(PS3) & Preschool 4 (PS4) through grade eight. The program is available on school days including half days. Sessions are from 6:30am to 8:00am and 2:30pm to 5:30pm. The cost is $5.50 per hour per student. Extended care also provides students access to our different clubs.
A student study hall (Gr. 5-8) and homework club (Gr. 2-4) is offered every day from 2:30-3:00pm where students spend time working on daily homework assignments in a relaxing atmosphere; at times working with peers and/or receiving extra help from the teacher on duty. This service is included as a part of our Extended Care Program. Students then transition into the various organized club activities, to the computer lab or free choice time available to them for the remainder of their time in Extended Care.
We encourage parents who are able to assist us in enriching students' exposure to new and fun topics as a part of a club experience to share their various talents and hobbies and propose new (even seasonal) clubs. Please contact the office for more information on current club offerings or to volunteer your time and talent.