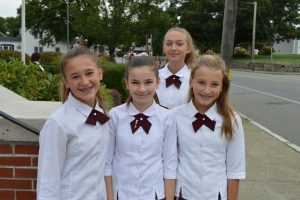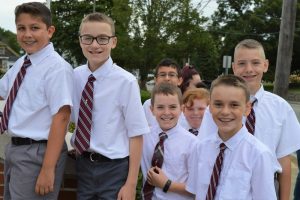 BUILDING CHARACTER FOR LIFE
The goal of our middle school is to reinforce responsible behavior and form independent learners who are leaders at the school.  Beginning in grade 6, students have the ability to qualify for entry in the National Junior Honor Society, as well as take on leadership as a Student Ambassador, Tutor, or participate more actively in Campus Ministry.  Our NJHS members participate in and help to lead service opportunities for the school to help support various charities.  In Grade 8, Student Council officers are elected and help to plan and host many fundraising events throughout the year that reinforce school spirit while raising necessary funds for their end-of-year class activities.
ACADEMIC RIGOR
Grades 6-8 are departmentalized and so students change classrooms for the various academic disciplines.  Latin is offered in grades 7 and 8, and Algebra 1 is offered for students in grade 8 who qualify.  All students in grade 6-8 participate in both the Science and Engineering Fair as well as the History Fair.
The school's curriculum follows the standards from the Diocese of Fall River and aligns itself with the Common Core State Standards as is most appropriate.
Grade K through 8 are offering all major and minor courses recommended by the Diocese of Fall River. These include the following:
Theology *
Language Arts *
Reading/Literature *
Mathematics *
Algebra (8th grade qualifiers) *
Science *
Social Studies/History *
Spelling (Gr. 1-5) *
Art (PS-8)
Handwriting (K-3)
Music (PS-5)
Physical Education (PS-8)
Spanish (Gr. 1-5)
Linguistics (Gr. 6)
Latin (Gr. 7 & 8)

* The above classes are considered "academic subjects": for the purpose of determining make up requirements and honors and awards. Students will receive academic letter grades, and /or number grades for each class. Effort and conduct grades are also included.
It is the philosophy of our school and the Diocese of Fall River that children need to develop study skills as well as the discipline to make their learning experiences an integral part of their everyday life. It is also invaluable for students to continuously review mastered concepts and to apply them in varied ways.
TECHNOLOGY INTEGRATION
In this day and age, Computer technology is no longer simply a separate course limited to the 'computer lab'.  The availability of Chromebook carts in the school allows for Technology to be integrated into the classroom subjects throughout the year for students.  Teachers are also able to utilize our school's STEM lab to enhance their instruction.
Teachers also communicate with parents through their classroom webpages to help open communication and build a bridge for student learning both in the classroom and through practice with parents at home.  Click here to learn more about the technologies available at the school to support our middle school students.