The Science and Engineering Fair is an exciting event that encourages students to explore a question of interest to them and to share knowledge with parents, teachers, and classmates. The educational benefits are numerous as students develop skills in writing, oral presentation, creative thinking, and problem solving.  
Each 7th and 8th grade student is asked to develop a project based upon a question that they will be able to investigate within the framework of experimental design (a controlled experiment)!  
Congratulations to all our 7th & 8th Graders for their completion of their projects and especially to the Science Fair Winners listed below who will be representing our school at the Regional Fair in March!
CLICK HERE TO ENJOY SOME MORE PHOTOS FROM THE FAIR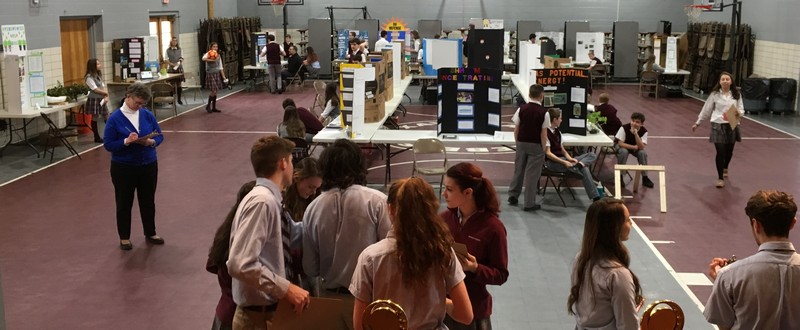 Grade 8
1st–Lilly Manning
2nd–Molly Kearney
3rd–Kyle Viera
Honorable Mention–Julia Hartford
Grade 7
1st–Madeline Polochick
2nd–Emilia Shaughnessy
3rd–Thomas Clavell
Honorable Mention–Alena Nelson
Additional Regional Qualifiers
Kailey Araujo
Garrett Vieira