Do you use Amazon.com to shop? Did you know that Amazon will give 0.5% of your purchases to a charity of your choice?
St. Francis Xavier Parish and School is now eligible for this donation. All you have to do is use smile.amazon.com to order your products and 0.5% of your $$$$ spend will be given to SFX. Click here to go to AMAZON SMILE
Save the link to your favorites and in the future go to Amazon through this link and Amazon will remember to send 0.5% of your purchases to SFX. It's easy, it costs nothing and you can help us earn funds we can use for our parish and school.
If you work for a company that purchases from Amazon perhaps they would be willing to nominate us for Amazon Smile.
Please tell your family and friends – it costs nothing, it's easy and it helps our parish and school provide services to our community and students.
We appreciate your support.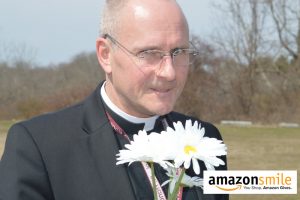 When you sign up for Amazon Smile you can enter our
Funny Foto Competition.
$100 Amazon Gift Certificate.
The prize will go to the submitter of the funniest photograph
as judged by Mrs. Russo and Mrs. Shaughnessy.
Competition Deadline is 

extended to Catholic Schools Week:
January 30, 2017